Hi, I'm John Russell. I provide psychic readings by phone, and new clients are always welcome! My readings by phone are every bit as accurate as an in-person reading; the reason is that a true psychic gift isn't restricted by the physical limitations of time, space, or distance that hamper normal communications.
I never use computer or software-generated readings, automated devices, or any other types of gimmicks in my psychic readings, nor do I merely offer "by the book" interpretations; rest assured that you will receive an authentic psychic reading delivered to you by authentic means.
Over the decades I have studied, investigated, and practiced an abundance of psychic/paranormal disciplines: I am experienced in psychometry, clairvoyance (remote viewing), séances, telekinesis, crystal ball gazing, ghosts, hauntings, ESP, paranormal investigations, UFOS, mediumship, Tarot readings, healing/remote healing, utilizing crystals, stones, Runes, and many, many other aspects of the psychic, occult, spiritual, religious, and paranormal realms.
I look forward to putting my many years of experience and expertise to work for you with a practical psychic reading that will help you to move ahead in your life in positive ways, and that will encourage you as you move forward in your own spiritual journey.
"John is a great counselor with an abnormally accurate insight for the future. When faced with uncertainty or challenging situations, regardless the topic, John can steer one in the right direction. His advice and predictions has always been spot-on." Johannes Schwarz

"JOHN...I want to thank you for the help I received in my reading last week. The information you gave was not only accurate, but it was a great comfort to me. You have been a true and loyal friend and I will continue to recommend you to all my friends who are in need. With best wishes!" Peggy Miles

"He knows, he is for real! Having John to talk with is a most special treat. He is for real, and always is on the target." Carolyn Johnson


Click here to read 80+ Client Testimonials
John filmed a TV pilot for The History Channel in which he psychically explored the assassination of President Abraham Lincoln.
For over 15 years he has been a popular featured guest, heard worldwide, on many radio shows and podcasts. In the period of a year and a half John was interviewed over 100 times, including appearances on: Coast to Coast AM with George Noory — The Unexplained with Howard Hughes (UK) — FATE Magazine Radio with Kat Hobson — Beyond Reality/Paranormal IRL with JV Johnson — Darkness Radio with Tim Dennis — The Leak Project with Rex Bear — Shifting the Paradigm with Cristina Gomez — Generation Zed Podcast with Dave Zed — The Unidentified Celebrity Review with Luis Jimenez; and many more.
John is also a featured presenter at the 2022 Paranormal, Magic & Ancient Folklore Conference.
CLICK HERE to register!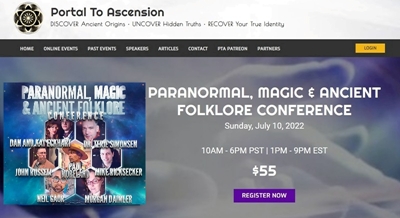 Readings by John Russell include no guarantee or warranty, express or implied. He is not responsible for any interpretations or information you obtain through the readings, and the information he provides should not replace professional advice pertaining to your area of concern (including, but not limited to, medical, psychological, legal or financial advice). You agree to these terms if you are using the services described on this site.